Out of all the online slot games playing at any of rhoCasino listed operators to choose from, Mega Moolah is one of the richest on the net. As its name suggests, this Microgaming online slot has already made millionaires across the globe and changed lives with just the click of a button. Here at rhoCasino casino games reviews, we wanted to find out some of the lucky few whose massive Mega Moolah Jackpot wins have landed them a place in the history books.
Mega Moolah Progressive Slot – Greek Millionaire
Georgios M., a 36-year-old player from Greece, lays claim to the largest win on the Mega Moolah progressive slot. In March 2009, Georgios become the luckiest player of all time when he visited the River Belle online casino and placed a single $5 bet. It turned out to be the best decision he had ever made, landing him a jackpot of €6.3 million in cash, the game's biggest Jackpot ever. After a lot of disbelief, Georgios realized he had just become a newly found online casino millionaire. Georgios' advice for other players is: "do not lose hope, it's a small moment that could change your life."
rhoCasino experts' recommendation is that you always play as much you can afford to lose. Nothing more, nothing less.
Mega Moolah Winner in 2008 is from Finland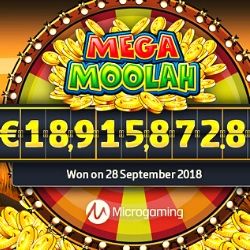 Play Mega Moolah NowClose on Georgios' heels, with the second-largest Mega Moolah payout, is Klaus E. from Finland. Playing at Blackjack Ballroom online casino back in April 2008, the lucky man from the chilly European country placed a bet of just 50c. Little did he know that he was about to become Microgaming's thirteenth millionaire when Mega Moolah's wheel of fortune gifted him with an impressive $5.5 million prize. At the time, this was the record-breaking online casino Jackpot win, leaving Klaus' hands shaking with shock. Once it had all sunk in, Klaus decided the first thing he would do with his spoils was pay off his apartment and go on a vacation. We heard that Klaus continued to play at online casinos but be never repeated a Mega Moolah Jackpot prize from then.
Mega Moolah Winner in 2009 is from Poland
The difference a simple free spin on Mega Moolah can make is incredible, as Radoslaw M. from Poland proved in October 2009. The 29-year-old Warsaw citizen won an incredible €1.2 million at one of the most prestigious online casinos, Betway Casino. He flew over to London to collect his winnings and start spending in style. "I haven't bought any new clothes for six months," he said during his prize collection. "Now that I'm here in London, I will go to Harrods on a shopping spree! I have also planned to buy a car on credit, but now I can afford a supercar." Radoslaw decided to spend the rest of his fortune on a fancy wedding to his long-term fiancé, as well as wise investments in bonds and properties.
We did some quick research and Radoslaw M. continue to play on online casinos just for fun and she didn't win a new Mega Moolah Jackpot prize since then. People just keep on winning at Mega Moolah online slot game, proving why it's one of the top online casino games time and time again.
Mega Moolah Winner in 2015 Won the Jackpot by playing online at Royal Vegas casino
In April 2015, another millionaire was made at the Royal Vegas online casino. Mark A. was killing some time on his mobile when lady luck smiled on him, landing him a staggering fortune of $7.5 million. It's little wonder that this online slot game has cemented its place as one of the best casino games around, with huge jackpot prizes to be won. You can find Mega Moolah jackpot casino slots at just about every online casino, but if you're looking to get your hands on a bank balance boosting cash prize, we recommend by reading first our Mega Moolah slot review.
rhoCasino Mega Moolah Jackpot slot review has all the expert touch but with the benefits of the promotions, we can offer that lets you spend less and play with more. You can browse all our casino games fantastic reviews section and see if you can join the ranks of some of the world's biggest jackpot slot games or why not the hottest casino games of 2020.